Lōkahi Canoe Club is a 501(c)(3) non-profit corporation.
The club is established to perpetuate and to provide the opportunity to participate in the Hawaiian tradition and culture of outrigger canoe racing.
Our mission is to:
Educate club members and to foster opportunities for the community to learn and engage in the Hawaiian paddling culture with respect and aloha.
Provide coaching and training to develop the leadership, teamwork, discipline, skills, and racing techniques for competitive paddlers to compete in outrigger canoe races.
Offer opportunities for the non-competitive paddler to train, enjoy, and participate in this sport.
History
Many years ago, in the 1960's, a man from the Island of Hawai'i donated a koa canoe to Kai Opua Canoe Club. The canoe was made from a log from his family's land in the mountains above Keauhou Bay. While it was a beautiful boat, it was not a competitive racing canoe. One of Lōkahi's founders, Willie Luahiwa, through the auspices of Adam Ahai, bought the canoe from Kai Opua and then sold it to the newly-founded Lōkahi Canoe Club in 1980. Under the talented hands of Dan Kahler the 36-foot canoe was transformed into the 40-foot racing canoe Ka 'Io, later rebuilt to be 44 feet long. In 1984 Ka 'Io was blessed by Reverend Abraham Akaka and was used that year by the men of Lōkahi in the men's Moloka'i to Oahu race.
Years later, while talking story one day after practice, one of the Lōkahi men, Pete Greenwell, asked the coach how Lōkahi had acquired Ka 'Io. When he heard the answer Pete was dumbfounded. Peter was the man from the Big Island who had donated that koa canoe to Kai Opua Canoe Club so many years ago. It seemed as if some cosmic balance had been restored; Pete and his koa canoe were together again. Harmony, unity, family: that is Lōkahi.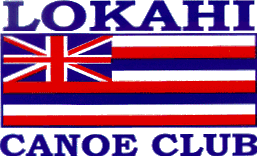 Lōkahi Canoe Club was formed in 1980 when the men of Kaiko'o Canoe Club's successful Junior Men's crew decided to pool their talents and form a new club. Lōkahi's founding fathers included active members Michael Cushnie, Bill Tsuji and Randy Fernandez and former members Dickie Chow, Marshall Giddens, Jerry Kahler, Willie Luahiwa and John Wong.
The word lōkahi means unity. Randy Fernandez, the new club's first Head Coach, is credited with suggesting the name for our club and the idea of using the Hawaiian flag as part of our logo. Our racing canoe "Randy" was named in his honor and dedicated to his memory.
Lōkahi began with only two canoes. Seven of the early canoes, including our koa canoe, were built by Jerry Kahler and his brother Dan Kahler. To help offset the many expenses involved in the maintenance of a canoe club, the club's founding members made and sold about fifteen canoes to raise funds. Some clubs are still using canoes they purchased from Lōkahi. As far as we know, we are the only club to have undertaken a project of this magnitude. Today we have thirteen OC6s and a dozen OC1s.
Mike Cushnie researched and developed the "Lōkahi stroke" and served as Head Coach for around 12 years, often simultaneously serving as President. Under Mike's guidance Lōkahi quickly became one of the top clubs both in Hui Wa'a and in the state.
Bill Tsuji has coached many different crews, most recently our Women's Novice B crews. Bill was the coach of Lōkahi's first State Champions, the Women's Freshmen in 1982, and he has continued to develop winners over the years.
Marshall Giddens, our current Head Coach, provided the financial resources that the new club needed to start building canoes, buying shirts, and getting the equipment a canoe club must have. Marshall later coached and served as club trainer, reminding some of us of military drill instructors we have known: tough but fair.
Dickie Chow was the steersman for the crew and he continues to steer both with Lōkahi and with other clubs, most recently with Koa Kai. Dickie is known to be an expert and low-key steersman with whom it is a pleasure to paddle.

Jerry Kahler and his brother, Dan Kahler, took the lead in building the new club's canoes and paddles, and in turning our koa canoe into the competitive racing canoe Ka 'Io (Hawaiian hawk). Jerry now lives on the mainland and Dan became a paddler with the club as he continued to build and maintain our canoes. Carrying on the tradition, Dan's sons have paddled with Lōkahi.
Willie Luahiwa passed away several years ago. The new club's first canoe was built in Willie's shop, and he was instrumental in getting the club its koa canoe from Kai Opua. Many years later, Willie's son Lester paddled with us.
John Wong was the first President of the new Lōkahi Canoe Club, and he established the administrative procedures and details that are so necessary for any organization to succeed.
The spirit of lōkahi that infused Lōkahi Canoe Club's founding members is alive today. We are privileged to share in that spirit. Mahalo nui loa.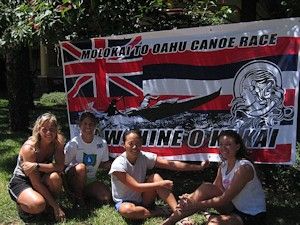 Despite our small beginnings, we have been entering men's crews in the Ka'iwi Channel race since the club's first year of existence and women's crews since 1982. We are usually able to field at least three women's and three men's crews for the races.
The goal of perpetuating the sport of Hawaiian canoe paddling is vital to our cultural enrichment and Lōkahi Canoe Club has contributed much towards this endeavor. Lōkahi is unique in the broad level of community involvement and volunteer activities for which our club is known. Some of our community activities have included:
working with other organizations in an Ala Wai clean-up projectproviding canoes and coaches for high-school canoe teams;
developing special programs for young children, starting at age ten, to build positive regard for the sport and a healthy competitive spirit;
contributing volunteers to coach a Special Olympics crew;
providing canoes and paddlers for the inaugural Tendai Mission Buddhist lantern floating ceremonies;
coaching paddlers from Shinnyo-en Hawaii Buddhist temple.
Our paddlers exemplify the meaning of the word lōkahi and have proven to be a strong force in the Na Ohana O Na Hui Wa'a Association. Since 1980, Lōkahi has won 17 Hui Wa'a championships. We consistently place among the top clubs in our division in our annual State Championship Regatta, with our best finish 2nd overall in 1994. Lōkahi's first state championship crew was our Freshman Women in 1982, coached by Bill Tsuji; more recently our Novice B Men missed setting a new record by less than a second as they won their race in the 2004 States.
As in most Hawai'i clubs, a hard-core nucleus participates in long-distance racing seasons before and after the mid-summer regatta season. Our distance crews point towards the annual Ka'iwi Channel races, Na Wahine O Ke Kai for women and Moloka'i Hoe for men.
Imua Lōkahi!